John Pechersky - How to Overcome Lust
On July 31 Orthodox Christians are commemorating Saint John Pechersky. He was struggling all of his life with lust. His heroism and ways how he was trying to overcome the lust may be interesting and inspiring also in our times. What we can do, according to St. John Pechersky, to win the lust and acquire a spiritual freedom?!
Entering the Monastery
From young age the next ascetic was suffering from lustful thoughts. He felt himself like on the edge of the abyss, while the devil was trying to push him down. John Pechersky was afraid if he would fall, he would never be able to stand straight again. Realizing that his passions will not leave him alone while living a worldly life, John decided to retire to monastery, take up novitiate and later ordination. Thus he became a monk in the Kiev-Pechersk monastery, nowadays in Ukraine. John Pechersky was working hard, diligently and humbly implementing all prescriptions. However, in spite of expectations of the young monk, passions didn't leave him alone even in monastery.
Fasting
John Pechersky decided to subdue the flash with strict fasting. As the Saint himself told it, he was not eating sometimes two-three days and sometimes didn't eat any food all week long and was torturing himself with thirst. Sometimes he was not sleeping in nights. For three years John Pechersky was struggling with lust this way – fasting and not sleeping – but again to no avail.
Praying
John Pechersky was constantly praying while working and fasting. Finding not relieve he went to a cave where relics of St. Anthony Pechersky were placed. John Pechersky was praying there on his kneels around the clock and finally he was awarded with a vision: the voice of St. Anthony said to him: "Oh, John, John, you have to stay here in this cave, so through not seeing and in silence eliminate the sin, and God will help you thanks to prayers of blessed by him." The monk obeyed and stayed to dwell in the cave, next to relics of the Blessed one.
Torturing of flash
In his new abode John Pechersky started again to fast and pray with great effort – throughout days and nights. Finally he stripped naked and put on a heavy iron pants. Thus he was walking around during winter and summer, in any weather, hoping to subdue the lust through freezing, heat and pain. This way John Pechersky spent thirty years. But even that was not enough, according to the words of blessed man.
Buried in the ground
Next to his cave John Pechersky dug a pit in the ground and on Monday of the Great Lent he descended into it and entombed himself in the earth, leaving above the earth only his hands, shoulders and head. Soon a terrible pain started in John's legs, due to immobile position. That's how John Pechersky later described his state: "My legs crouched, bones were almost breaking and a heat struck parts of my body". Surviving his sufferings gladly, saint remained in the pit all seven weeks of the Lent, believing it's better to be burn in the fire than to succumb to the devil.
Defeating the snake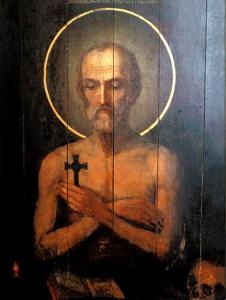 According to testimonies of Saint John Pechersky, his greatest test came during the night of Easter, when a snake of fire attacked him. This snake appeared very fierce to John. Approaching near, the serpent opened its mouth and swallowed the head and hands of ascetic, even his beard and hairs scorched. Never giving up the hermit called towards God: "Lord God, my Savior! Why You have left me, look at me, Ruler, and if You are the patron of man, liberate me from this enemy: show Your power and come soon, fire Your Divine lightning and struck him, so he disappears from your sight!"
For a lightning was asking John Pechersky and as soon he finished his prayer, an ineffable light as from a lightning flashed and struck the ascetic, "The Light which is present ever now doesn't require a candle, is it a night or day."
Healing
After struggling more than 30 years with his moral weakness, lust, John Pechersky finally get rid of it, and even more – he earned the ability to heal from it others too. For example, there was a monk who used to visit him to receive teachings, who was also suffering from the lust. Once, wishing to help him, John Pechersky was praying and gave the sufferer a bone from relics of St. Anthony and instructed him to put it to the body. "He did obey and instantly felt that the heat calmed down and all lustful passions of the flesh cooled down".
John Pechersky died on 31th July in 1160. Precise date of his birth is not known.